"When you find the love, you find yourself. The secret is in the love"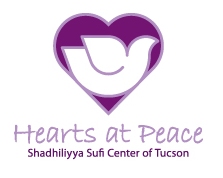 Welcome to Hearts At Peace, home of the Shadhiliyya Sufi Center of Tucson, offering healing for your body, heart, soul and spirit.
We offer the teachings of the Sufi mystics, through introductory and advanced classes and workshops, along with regular weekly gatherings for Sufi spiritual practice.